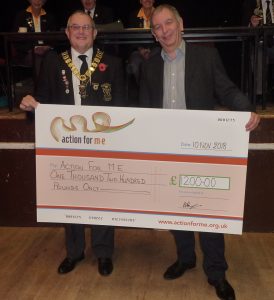 On November 10th at St Stephen in Brannel Community Centre, Bowls Cornwall held their AGM, at which the President Peter Prynne made a cheque presentation to Action for M.E, which was his chosen charity for the year 2018.
A trustee from the charity, Chris Cundy attended to accept the cheque which was for £1200.00. Chris Cundy explained that the money would go towards funding the ME Helpline for two weeks, which to those with the condition was a lifeline.
The money raised was by having 'Spider' Collections at the beginning of selected matches in Cornwall, Devon   and Somerset, donations and also a Bowls Drive held at the President's Club 'Dunheved' organised by Mrs Christine Hore, Bowls Cornwall Administrator.
Myalgic Encephalomyelitis is a chronic fluctuating neurological condition, affecting all ages. It is estimated M.E. affects  one in 250 people in the UK, including around 2,000 people in Cornwall, one in a hundred young people aged between 11 -16 years have M.E. and is the most common cause of long term absence among school children.  One in four people with M.E. are so severely ill they become house and/or bed-bound. It is more common in women than men.
This presentation was the climax of Peter's Presidential year which was an exceptionally successful one for Bowls Cornwall at National Level in both the Mens and Ladies Championships/Competitions. The successes were as follows:
Men's Section:
National Champion of Champions Winner – Andrew Broad, St. Stephen
Senior Pairs Runners Up – Ronnie Thomas, Penlee and Kevin Williams, Porthleven
Triples Semi-Finalists – Mark Sturtridge, Paul Sturtridge and Ian Ball, Stenalees
Fours Quarter Finalists – Bernie Dyer, Alex Crichton, Nick Trewin and Peter Gilbert, Kensey Vale
Senior Fours Last 16 – Chris Instance, Glyn Mitchell, Barrie Tippett and Phil Downs, Chacewater
Ladies Section:
Amy Rose Runners Up – Sarah Brooks, Kelly Cotton, Michelle Moore, Rhian Pollard, Leah Read, Laura Shepherd, Lisa Stubbs, Katie Sturtridge, Bethany Watkins
Two Wood Singles Semi Finalist – Nicky Gilbert
Junior Singles Quarter Finalist – Katie Sturtridge
Senior Fours Quarter Finalists – Veronica Battersby, Maureen Wilson, Shirley Coad and Joan Rees, St. Austell
Triples Last 16 – Katie Sturtridge, Lead Read and Michelle Moore, St. Austell
Junior Pairs Last 16 –  Leah Read and Katie Sturtridge, St. Austell
Mixed: Tony Allcock Trophy Quarter Finalists – St. Austell
Also the Middleton Cup team won the four games in their group to reach the Quarter Finals losing to Devon.  The White Rose Team played in the Regional Finals also losing to Devon.
Peter and members of the Presidential team gave good support to all our competitors both at Leamington and at venues both within the County and beyond.
We look forward in anticipation to an equally successful season next year.