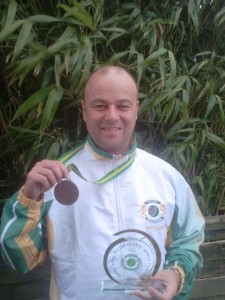 Mark Read has played his part in helping England claim a bronze medal in the prestigious Hong Kong International Classic Bowls Tournament.
The Stenalees Bowling Club member represented his country, alongside Robert Newman of Berkshire, competing against the world's best.
After coming through their group in second place Read and Newman were edged out in the semi-final by Ireland as they returned home with bronze medals.
 Mark said "We had a fantastic time and were just edged out by Ireland in the semi finals."
Bowls Cornwall are proud of Mark's success and send their congratulations to Mark on his success in attaining a bronze medal.