var _gaq = _gaq || []; _gaq.push(['_setAccount', 'UA-33192850-1']); _gaq.push(['_setDomainName', 'bowlscornwall.co.uk']); _gaq.push(['_setAllowLinker', true]); _gaq.push(['_trackPageview']);
(function() { var ga = document.createElement('script'); ga.type = 'text/javascript'; ga.async = true; ga.src = ('https:' == document.location.protocol ? 'https://' : 'http://') + 'stats.g.doubleclick.net/dc.js'; var s = document.getElementsByTagName('script')[0]; s.parentNode.insertBefore(ga, s); })();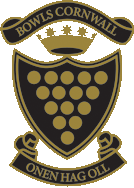 BOWLS CORNWALL MEN'S SECTION SECRETARY 
Bowls Cornwall is seeking to fill the position of Men's Section Secretary at their Annual General Meeting in November 2013.
The job description for this position is as set out below:
To manage the Bowling Activities as follows:
Competitions leading to the National Championships
County Competitions
Keep such records, produce reports etc. as directed by the Executive Board.
Act as Chair/Vice-Chair of the Competitions Committee. Arrange meetings of the Competitions Committee and set up such Sub-Committees as required. Submit reports and minutes to the Bowls Cornwall Administrator as and when required.
Be responsible for updating website.
Organise County Luncheon.
Be responsible for the return of all the Cups and Trophies and ensure that they are taken to the appropriate venue for presentation.
Arrange Selection Committee meetings and book room for these meetings.
Conduct selection of mixed games and admin. together with the other Section Secretary.
Attend quarter, semi –final and finals of all Competitions.
Attend SWCL games.
Manage/liaise/direct Bowls Cornwall Groups on bowling matters as and when required.
Delegate any of their duties to the Match/Assistant Section Secretary.
Undertake any other duties as directed by the Executive Board.
If you require any further information then please contact Christine Hore on 01726 822897.
Applications together with your CV to be sent to Mrs. Christine Hore, Administrator, Bowls Cornwall, 79 Fore Street, St. Stephen, St. Austell, PL26 7NS by the 1st August 2013.